The Food Safety Modernization Act has major implications for food manufacturers, transportation companies and food distributors. Here's everything to know about how the regulation affects you.
The Food Safety Modernization Act: Everything You Need to Know about the Role of Foodservice Distributors and Transportation Companies
In the world of transportation and logistics, adhering closely to an ever-evolving landscape of laws and regulations is crucial—and can often make a major difference in ensuring the safety of consumers.
When it comes to safety, the FDA's Food Safety Modernization Act (FSMA) is one of the strongest measures put in place in the United States to protect consumers from spoiled or infected food products.
While the regulation is extremely important, it can be difficult to understand every party's role in adhering to it, from food manufacturers to food distributors.
That's why we decided to create this guide to understanding the FSMA as well as the crucial role of food manufacturers and transportation companies in delivering safe food to consumers.
Let's get started!
Origins of the Food Safety Modernization Act
Before we jump into the nuts and bolts of the regulation, it's important to understand how and why it came about.
While the United States has a very safe food supply compared to the rest of the world, the US Centers for Disease Control and Prevention estimate that nearly 48 million people (which amounts to about 1 in 6 Americans) are affected by foodborne illness.
Of these 48 million, 128,000 are hospitalized and 3,000 die.
While major outbreaks are not a daily occurrence, there has been no shortage of them in the past decade, ranging from a 2008 Salmonella outbreak in peanut products to a 2018 E.Coli outbreak that led to a major romaine lettuce recall.
Aside from major outbreaks, the number of total outbreaks each year in the United States has consistently been in the hundreds over the past decade.
Here's a graph from Statista showing the number of foodborne disease outbreaks in the United States each year between 1996 and 2016: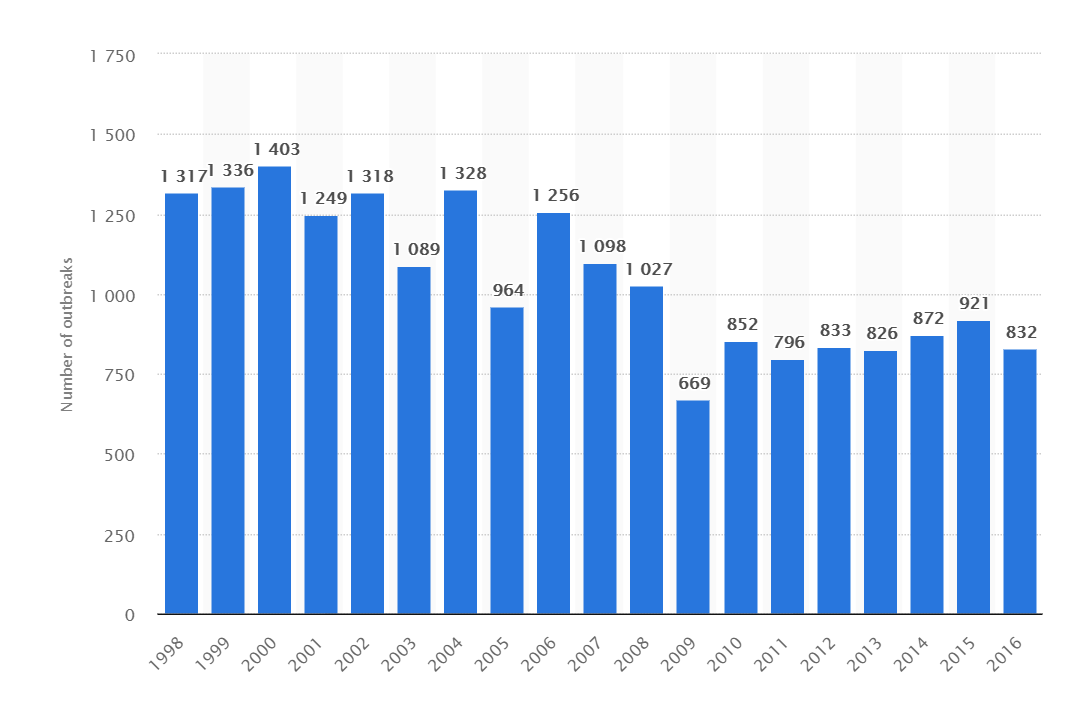 Taking a Step Forward from the Sanitary Food Transportation Act
The Food Safety Modernization Act is an expansion of the Sanitary Food Transportation Act, which was passed in 2005. It builds on the original regulation, establishing requirements for shippers, loaders, carriers and receivers that are involved in transporting human and animal food.
Let's learn more about the regulation:
What is the Food Safety Modernization Act?
The Food Safety Modernization Act is a rule designed to prevent foodborne illness by establishing greater control over production, storage, distribution, and inspection processes.
In many ways, it simply increases the FDA's role and authority in ensuring food safety and preventing contaminations and outbreaks.
The FSMA makes the FDA's role in food safety extremely preventative rather than reactive, requiring the FDA to mandate comprehensive, prevention-based controls across the food supply.
The FSMA gives the FDA more authority to conduct compliance inspections. The frequency of these inspections is based on risk of contamination.
The FSMA gives the FDA mandatory recall authority, which allows the FDA to quickly respond to issues as they occur, and stop outbreaks before they become widespread.
The FSMA allows the FDA to address major weaknesses in import safety, and helps to ensure that US food safety standards are being met when it comes to imported food products.
The FDA has built stronger partnerships with other food agencies and private entities to enhance the effectiveness of the regulation.
How Do FSMA Regulations Affect Producers, Manufacturers and Foodservice distributors?
All food producers in the United States are required to comply with the following FSMA requirements:
Register with the FDA biannually
Create a Food Safety Plan with science-based preventive controls based on a hazard analysis
Create a Food Defense Plan with science-based mitigation strategies based on a vulnerability assessment
Promptly report any foods that may cause adverse health effects to the Reportable Food Registry
For dairy farms, except properly exempted 'very small' dairy farms, compliance is required with some portions of the Intentional Adulteration Rule
The above requirements are designed to solidify the FDA's role in the prevention of foodborne illness.
But what does the FSMA have to say about after the food is produced?
The FSMA Rule on Sanitary Transportation of Human and Animal Food
Among the many elements of the FSMA, the Rule on Sanitary Transportation of Human and Animal Food specifically pertains to the transportation, warehousing and logistics industry, establishing requirements for vehicles, equipment, operations, records, training and waivers.
Who Does the Rule Apply to?
The Rule on Sanitary Transportation of Human and Animal Food is more than a blanket regulation on transportation companies. It requires compliance for companies that serve as shippers, carriers, receivers or loaders (or any combination of those roles).
Let's explore the roles in more detail:
Receiver
A receiver refers to the entity that receives the food after transportation. A receiver can be a shipper or a carrier, like a foodservice distributor, but not an end consumer like a restaurant or hospital.
Shipper
A shipper refers to the entity that arranges transportation of the food by one or more carriers. This can be a food manufacturer or producer but also applies to any 3PL that may be involved in the transportation process.‍
Carrier
The carrier refers to the entity that owns or leases the vehicle that transports food.
Loader
The loader refers to the entity that loads food onto the vehicle that will be used during transportation operations.
Main Requirements of the Rule on Sanitary Transportation of Human and Animal Food:
Vehicles and Transportation Equipment
The rule maintains control over the design and maintenance of vehicles and transportation equipment to ensure that the vehicles or equipment do not cause the food they are transporting to become unsafe.
For example, refrigerated vehicles need to be able to maintain the temperatures necessary to transport specific foods, and all vehicles need to be cleaned adequately so as to avoid contamination.
Transportation Operations
This refers to any of the steps taken during the transportation process to ensure food safety.‍
Here are a few examples:
Temperature controls in refrigerated trucks need to be set properly and maintained throughout the transportation process
No individual should come in direct contact with raw food
Food must be protected from contamination by non-food items
Food must be protected from cross-contact related contamination with other foods
Food being transported needs to be protected from unintentional contact with food allergens
Training
Training goes a long way in preventing food safety issues that come from inadequate equipment, non-compliant operations and inaccurate records.
The rule requires that carrier personnel be trained in sanitary transportation practices and requires proper documentation of this training.
Carriers are required to provide food safety training to all transportation operations personnel.
Records
The FDA requires that carriers keep accurate records of written procedures, agreements and training.
How Do Food Transportation and Cold Chain Logistics Partner Help to Ensure FSMA Compliance?
When it comes to transportation companies and cold chain logistics, compliance with FSMA ultimately comes down to competence and integrity.
A transportation company needs to understand that it is largely in control of preventing food contamination and in doing so eliminating major risks of foodborne illness outbreaks.
In other words, FSMA compliance isn't just about avoiding FDA sanctions, it's a valuable service to consumers.
Here's How the Best Transportation and Cold Chain Logistics Companies Stay Compliant with FSMA
Fully Compliant Vehicles and Reefer Trucks
Compliance starts with vehicles that do their job and do it right.
Let's say an ice cream maker in Minneapolis needs to rely on a cold chain logistics company to promptly and safely deliver its products throughout the Midwest.
The carrier's refrigerated sprinters and trailers need to be able to maintain the perfect temperature throughout the transportation process, or the product will be unsafe to consume.
Companies like this ice cream maker rely on carriers with fully functional vehicles to avoid major product losses.
High Quality Equipment
Vehicles aren't the only type of equipment that needs to be safe and compliant.
Transportation companies need to ensure that they are equipped with all of the equipment necessary to safely get products into the hands of consumers.
This includes everything from supplies to properly disinfect trailers to warehouse equipment, and even proper labels on boxes and pallets.
Ironclad Operations
The best cold chain logistics and refrigerated transportation companies will follow all of the shipment requirements specified by the shipper.
They will also adhere to detailed processes for handling, storing and loading food products so as to avoid contamination.
Take the example of our Minneapolis ice cream maker from earlier:
In using an outsourced fleet of refrigerated vehicles, it is relying on the compliance of a refrigerated transportation company. This company needs to have standards in place for safe handling, storage and transportation of the product.
Compliant Cold Storage
If cold storage or cross-docking is required along the transportation path of a product, specific requirements will need to be met.
Refrigerated warehouses need to maintain proper temperatures to keep a product from spoiling. They also need to be organized in such a way as to keep food products away from allergens or contaminants.
During cross-docking, cold chain logistics companies need to pay special attention to the amount of temperature variation that a food shipment can experience without putting the product at risk.
Well-Trained Drivers and Warehouse Staff
This doesn't just mean making every driver and staff member watch a video on FSMA compliance, it means making FSMA compliance a priority, and ingraining it into day-to-day operations.
This starts with making drivers and staff aware of the role they play in providing safe food to consumers.
The Bottom Line: Work With a Trusted Transportation Partner
While many companies have successfully become compliant to FSMA, it's important to remember that food safety issues still occur on a regular basis in the United States.
Because of this, it's important to partner with a transportation company that takes FSMA seriously, uses compliant equipment and takes the training of its drivers and staff seriously.
At Winnesota, we take FSMA compliance extremely seriously. We continually invest in our equipment and training to ensure that our staff and drivers are in-the-know, and equipped with the right tools to keep shipments safe.